Blooming Baroque and Fairytale Garden in Ludwigsburg – a wonderful experience for the whole family
There is always something going on in the Blooming Baroque ...
With the scent of blossoms and the magic of fairytales as well as our main events, there is always something going on in the Blooming Baroque. In addition, there are changing exhibitions in the orangery, children's programmes such as Punch and Judy shows or storytellers, guided historical or horticultural tours, model boats on the lake, concerts and much more ... the Blooming Baroque is always worth a visit!


How's the weather in the Blooming Baroque?
The webcam image is updated every minute from 7:00 a.m. to 9:00 p.m., giving you a live insight of the number of visitors and the weather. Our weather station provides a 24-hour and a weekly weather overview so that you can plan your visit accordingly.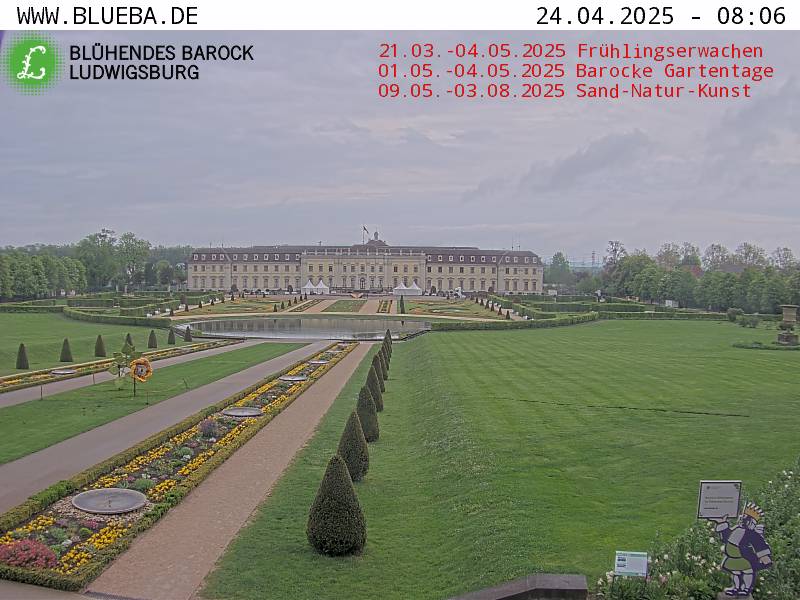 The WebCam image is updated daily from 7.00 to 21.00 o'clock. Find the legal notice here.
A tour in pictures
The more than 30 hectares of gardens surrounding the Residence Palace form a dignified setting in which tradition and contemporary garden art unite to create a magnificent garden show.
The Blühende Barock in Ludwigsburg, the oldest and most beautiful garden show in Germany, invites you to stroll, linger and dream. Take a virtual tour of the gardens....